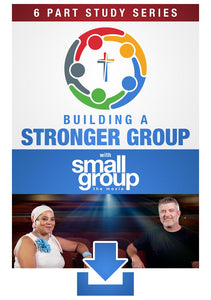 AVAILABLE WORLDWIDE! Stream & Download. You'll receive a redemption link after purchase. Questions? Contact us.
Join Writer/Director Matt Chastain and podcaster Kira Davis on a 6 Episode journey through the themes and lessons from Small Group: The Movie!
Among its many themes, Small Group: The Movie is about a group of believers who, like your group and millions of others, come together to strengthen their relationship with the Lord while strengthening their friendship with others. But let's be honest, these groups don't always work out. Sometimes the chemistry is wrong; sometimes there's not enough commitment or intentionality; and, sometimes the group simply needs time.
Our goal for this study series is to walk you through various topics of conversation, using the Bible and clips from Small Group: The Movie to help you strengthen the bonds in your group.
Matt Chastain (Writer/Director)
Matt has been blessed with a fruitful career both in front of and behind the camera and mic. As a writer/director, Matt has produced hundreds of TV commercials and promotional videos in his 15 year career in marketing and advertising. He made a name for himself around the world as an on-camera host but it's his voice that's most well-recognized, having voiced national radio spots for mega brands like Dunkin Donuts, Subway and the Milwaukee Brewers. He also plays Shane Baxter in Small Group.
Kira Davis (Podcaster/Filmmaker)
Kira is an op-ed journalist and co-host of the Just Listen to Yourself podcast. As passionate advocate for the black community, school choice and conservative policy she has been a guest on various outlets, including The Blaze network, Fox News, One America News and The Dr.Phil Show. Kira has had the privilege of interviewing President Barack Obama and traveling the country to bring to engage in discussions about liberty and faith. Kira is a dog person but she has been known to tolerate the occasional cat.
EPISODE LIST
Intro
Meet Small Group: The Movie Writer/Director Matt Chastain and podcaster Kira Davis as they tell you a little of what to expect as we use topics from the film to help you build a stronger group! 
Episode 1: The Biblical Significance of Groups 
How important is it to form a group who worships together, prays together and lives life together? What's the first thing Jesus did when he began his ministry? He formed his small group. 
Episode 2: The Biblical Significance of Group Leadership 
It's almost universally true that any group of people is going to be as strong as its leadership. So again, we look to Jesus to provide the perfect model. What was He like as a leader and how can your group's leader emulate those qualities?  
Episode 3: Intentional Culture
Most of us who have been involved in group ministry have experienced our fair share of awkwardness from time to time. It's because we're always trying to strike that perfect balance between being intentional enough to be effective without forcing things so much it feels awkward or contrived. In this episode, we talk about how you can achieve this.
Episode 4: Tough Topics and Conflict
Our society is pretty stinking terrible at this topic as a whole and, frankly, the church hasn't been great at it either. How do we emulate Jesus within our group when dealing with inevitable tough topics and conflict, handling them with boldness, grace and love?   
Episode 5: Dark Night of the Soul 
Whether it's in movies, Bible stories or in real life, people go through trying times. One of the most important functions of your group is to be ready and eager to help walk your friends through these times and for them to do the same for you. 
Episode 6: Missions
Wait, missions and group life are supposed to be two separate ministries, right? Why do missions play such a big role in Small Group the Movie and what's it got to do with your group? Matt and Kira will lead you through that discussion in Episode six.